Anchorage point fixed to the attic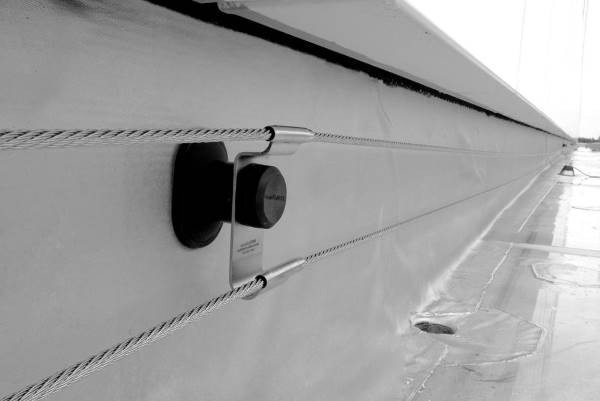 Fall protection systems are most often associated with a roof-mounted system. Often this requires fixing to sheet metal or reinforced concrete through isolation. Consequently, the isolation layer has to be pierced in order to anchor parts of the system. Although such posts can be sealed in a very easy and quick way, sometimes it happens that there is no consent from the investor or the General Contractor. In this case, mounting directly to the roof is not an option. What to do in a situation where we cannot attach ourselves to the roof and you need a fall protection system? The attic wall and a safety system attached to it come to the rescue. Attic can increase the level of safety, but if they are not high enough to prevent a fall, it is advisable to have some additional fall protection systems as well.
It is not uncommon to find attics less than a meter high. Not only they do not protect the user, but they also create a false sense of security. At this point, however, it is possible to install fall protection systems. When we cannot attach directly to the roof, and there is even a small attic there, we can install our devices to it. We are able to mount our rope systems and anchorage points on almost every attic. Thanks to this solution, there is no need to perforate the roof covering. Another common reason for the need to attach to the attic is a large number of roof installations e.g. ventilation, skylights, photovoltaics that take up space on the roof, so there is no way to properly run a rope system, in which case the best solution will be to mount such a system to the attic.
Attics can be divided into the following:
Full
Openwork
Stepped
Comb
Attics are also made of various materials, the most frequently used are:
Full ceramic brick
Silicates
Concrete blocks
Concrete poured in formwork
Each of these materials requires a different method of montage. In addition to the anchoring material, the materials of the isolation are also important. To avoid building dampness and frost damage, some isolation layers are usually used. Most often, polystyrene, mineral wool, sandwich panel, membrane and weldable roofing paper are used. Each of these layers allows the installation of our fall protection systems to the attic.
Types of systems that can be mounted on the attic:
The FLAT anchorage points system
Impassable LINEX rope system
Movable LINEPRO rope system
Securail rail systems
Single anchorage points work very well in places interrupted by various roof walls and installations. In this case, the rope system loses its primary advantage over the point system- no need for frequent reattachment. In turn, the safeline system can run in a collision-free manner when mounted on the side of the attic wall or at the top, depending on your needs. Such solution allows us to go along the entire system without having to reconnect. A fall protection system attached to the attic is often a supplement to the standard roof system. The creation of mixed rope-point systems has also become popular. Single anchoring points are a very good complement to the rope system in the attic.
To sum up, it is good to remember that the fall protection systems can be mounted not only on the roof, but also to the attic, and even other elements, e.g. to fans. Thanks to this, we are able to better plan the safety of future works on the roof.