Fall protection on construction site
Currently in Poland there are around 1.2 million construction workers. Most of them works at erection of buildings. This job is characterized by starting from foundation and going up, creating next segments. During the construction of the first floor our employees are already facing risk of a fall from a height. Each week construction companies come forward, needing information how to properly protect it's workers. It is not a easy task. Each construction site is different, has individual traits and specific characteristics depending on place and type of building. You need to provide different protection to steel structure assemblers building warehouse and other types of systems are required to protect people during formwork works on residential building. Below we present the most popular solutions of fall protection on construction site.
Fall protection on construction site Absorber
Absorber AS-SAFE
Fall protection system AS-SAFE is most often used during framework works. This solution can be used multiple times on different construction sites. Plastic sockets are placed in concrete. When it is solid we can mount poles in them and between poles we install anchoring belt and we have ready to use fall protection system. Poles are 2m heigh – this ensures system is above work level. This solution greatly improves users situation in case of a fall. Steel poles can be also used as anchorage points EN-795:12 type A, especially during system montage to protect installation crew. After finishing in particular place, poles can be removed and sockets are filled with concrete to conceal it. System can be then used in other place where it is required. To use said system user needs protective harness and safety rope. Use of self-braking device is also recommended.
Absorber AS-CLAMP
AS-CLAMP is a kind of temporary fall protection system than can be used simultaneously by three users. It contains of working belt, corner protecting padding with hook buckles and transport bag. All you need to do is mount the system around a pillar or other suitable place and you can already use it. There is a possibility to attach directly to hook buckles or you can install the system between two pillars and mounting to safety belt connecting two sets. This protection gives us freedom and safety during work at a height. Simultaneously it can be quickly assembled and disassembled and is easy to transport. It is a perfect system when we don't want to drill in concrete to mount permanent anchorage point and we need cheap and quick solution.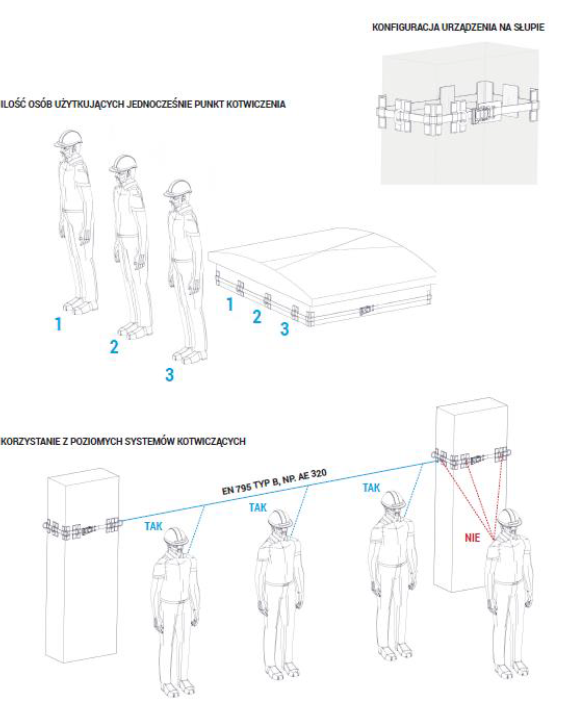 Fall protection equipment
Training and personal protection equipment
Apart from whole range of fall protection systems the most important thing is of course proper training. Extra courses on safe work at a height are necessary for such job. Properly trained person knows how to correctly use fall protection systems and safety harness, knows rules of working at a height and can behave in dangerous situations. Any systems and protection cannot guarantee safety when their user doesn't know how they work. Additionally you need to remember about elementary thing like boots with toecaps, proper harness with safety rope and helmet.
Other
Apart from systems mentioned above there are many, many more. The best example is mobile anchoring mass AS-FLAT-M. Such anchoring mass can be transported from place to place, thanks to substantial weight it is capable of protection a person from a fall. Often used are safety nets – properly installed, they can protect not only people from a fall, but can also stop various objects falling from above than can create danger for people below.