Roof railings are systems that provide collective protection against the fall of people working at height. They are among the systems most commonly used due to the convenience of carrying out various types of construction and maintenance works, as well as service or assembly works on devices located on dangerous surfaces, e.g. roofs, in particular devices located near the edge of such a roof. Roof railings are perfect for this type of work due to the lack of the need to use personal protection equipment. Of course, PPE can be used together with them, if necessary. Thanks to the railing, the so-called safe zones are created where there is no risk of falling from the height of people staying there. Properly designed and made roof guardrails meet the requirements of occupational health and safety and relevant standards, and thus provide maximum protection for people working at height against unwanted health damage or death.
Fall protection systems in the form of roof railings are an effective means of collective protection of employees, and one of their many advantages is simple and quick installation. They are used on most roofs, unless it is not possible to install them on a specific surface. The installation of these systems does not affect the roof sheathing, which is also a big plus compared to other fall protection systems. The basic roof railings are 1.1 m high, and a crossbar is placed in the middle of their height to prevent the worker from falling out. Weights are attached to the arms of the balustrade, thanks to which the stability is maintained and the forces acting on it are properly distributed. Their structure is relatively light and made in a well thought-out way, thanks to which the installation of the railings does not affect the roof sheathing. They can be mounted on roofs covered with a membrane as well as on concrete, asphalt roofs, etc.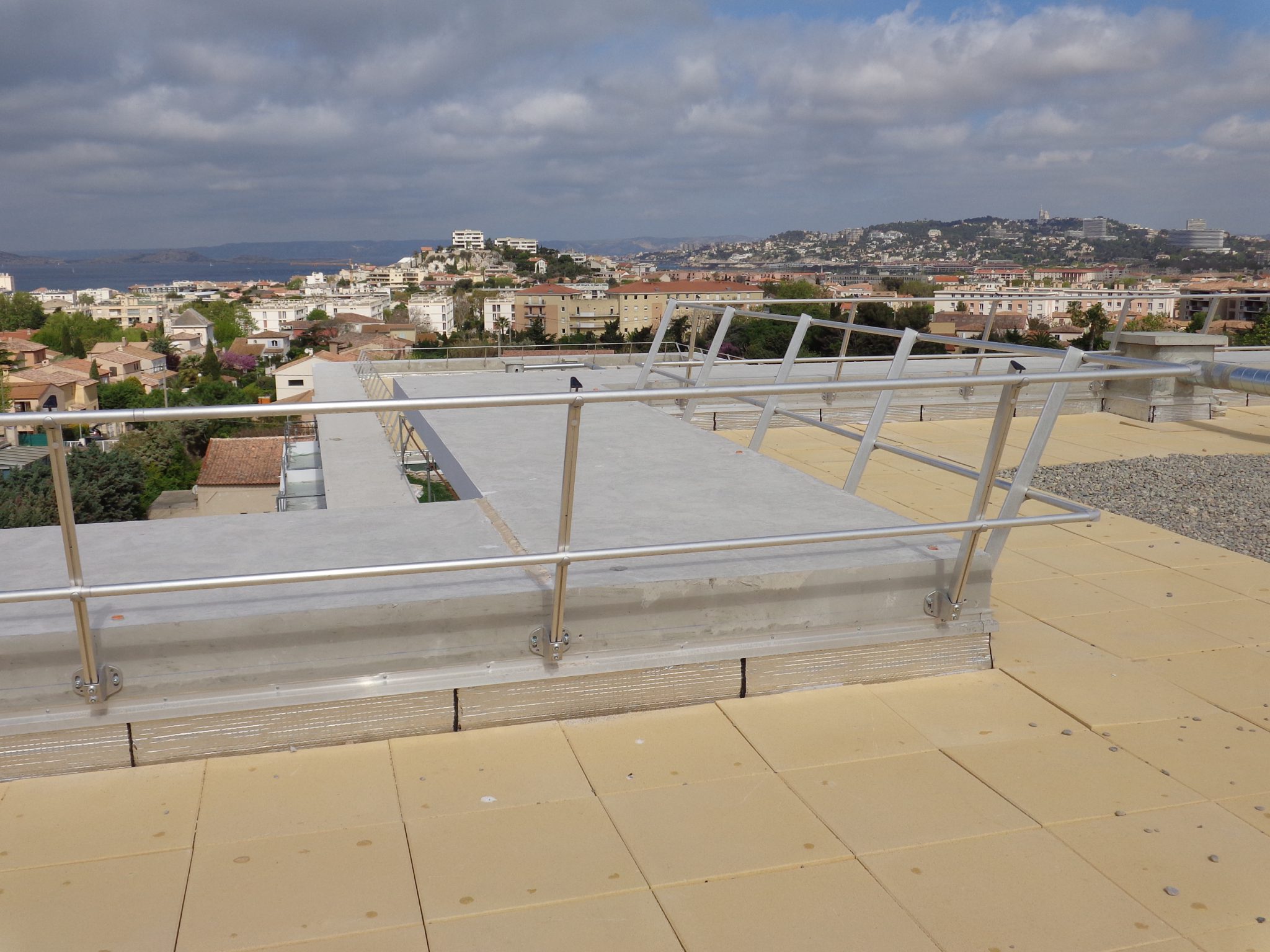 Roof guardrails fall protection
As mentioned above, guardrails are used for collective protection, so it is not necessary to provide each employee with personal protection equipment. This is a huge advantage due to the possibility of performing work by many employees at the same time. Roof railings are gaining popularity all over the world due to the method and cost of their installation. The cost of making such a system on the roof obviously depends on its size and variety, but it is relatively low. It also gains in flexibility, because it can be adapted to different conditions and there is no need for welding, riveting or threading during assembly, which also has a significant impact on costs. Roof railings are a convenient solution, because making them is actually a one-time investment, after which you can add elements to them and dismantle them. So you can change their course or position in a manner tailored to individual needs. Roof railings are an ideal solution for employers who need to ensure the safety of their employees. As you know, there are other forms of protection against falling, but if it is possible to make guardrails, you should invest in them. Of course, the employer providing PPE meets the requirements, but has no influence on whether the employee will comply with them. If the employer decides to use collective protection measures in the form of railings, then he has 100% certainty that his employee will be maximally protected against falling from a height.